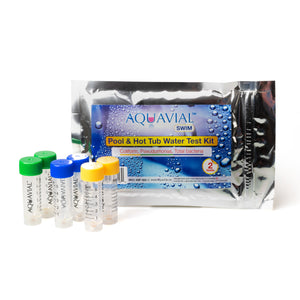 AquaVial SWIM - Pool & Hot Tub Water Test Kit
Regular price
£37.00
GBP
£0.00
Unit price
per
SKU:
ASF-002-BDE
Taxes and
shipping
calculated at checkout.
FREE shipping over $50 USD!
Swimming water test kit for the detection and monitoring of Total Microbial Level, Pseudomonas and Coliforms.
3 Tests in 1 kit, pack of 2
A New And Innovative Product, ideal for testing the effectiveness of your pool or hot tub water.  Easy to use test kit to verify if your swimming water is safe for ALL your family.
Simple, One-Step Water Testing Method.  Just pour sample water into each of the 3 vials included in each test and check for changes in color.
Easy-To-Read Results: easy to read color change, each test is easily identifiable by the color of the vial cap, and the color change produced.
Highly Sensitive Water Test: AquaVial SWIM is able to detect any bacteria over 100 CFU/ml and identify Coliforms and Pseudomonas even at concentrations as low a 1 Bacteria per sample.
Cost-Effective Water Quality Screening Test: AquaVial SWIM provides a simple, quick, convenient and cost effective way to screen the effectiveness of your pool or hot tub water treatment.  This can help you avoid visits to the doctor with skin rashes or infections caused by unsafe pool or hot tub water.
AquaVial SWIM Test Kit  is an easy-to-use screening test that can quickly detect if your pool or hot tub water is safe to use. It detects any bacteria or fungi that has managed to survive the water treatment used, regardless of the type of treatment. It works as well with chlorine, bromide, ozone, UV, or enzyme based treatments to detect the presence of any residual bacteria.
The kit contains 3 different tests so you can identify not only the effectiveness of your current treatment, but the source of the contamination and the type of bacteria that has survived treatment.  For example, it is known that some species of Pseudomonas have managed to build resistance to chlorine or bleach, and increasing the dose of the treatment will not help eliminate it.  Or that Coliform bacteria is a source of contamination from fecal mater, and can be easily eliminated by increasing the dose of disinfectant for a short period (shock dose).
AquaVial SWIM will give you the piece of mind that your pool or hot tub is clean and safe to use.
Detection limit: 1 CFU/ml for Coliform and Pseudomonas vials, 100 CFU/ml to total microbial vial, within 48 hours of incubation at room temperature.
Recommended sample volume: 5 ml
Box Content:
Each kit contains 2 sets of AquaVial SWIM vials
Each set contains one each of the Total Microbial Vial (blue cap) Coliform vial (yellow cap) and Pseudomonas vial (green cap)
One set of Instructions 
Shelf life: 2 years (expiration date is indicated on the package)
Store away from direct sunlight
Download  How to Use Instructions
Q: How many tests can be done with one kit?
A:  Each kit contains 2 sets of vials, and it can be used to perform 2 tests for each type of bacteria.


Q: What does it mean if the liquid in the vial remains unchanged first 24-48 hours, but changes color a couple of days later?
A: The reagent in the test vial detects the presence of an enzyme produced by bacteria and fungi.  However, the enzymes can sometimes be present at very low concentrations from other sources or from dead bacteria.  In some cases, this can result in colour change after the recommended 48 hour period (after 4-5 days or even longer).  However, if the vial did not change color within the first 48 hours it is a clear indicator that there is no viable (live) bacteria in your water, or bacteria levels are too low to be of concern.
---