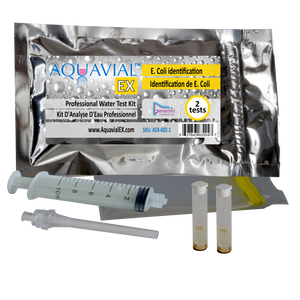 AquaVial EX - 7 Hours E. coli Detection and Identification Professional Water Test Kit
E. Coli specific test:  This Patented Enzyme Based Technology works using bacterial enzyme recognition within the water sample. 

AquaVial EX is designed to detect ß-D-Glucuronidase positive strains of E. coli enzymes.

3X Faster:  Detects E. coli bacteria in 5 to 9 hours, which allows for rapid corrective action.
Easy-To-Read & Reliable:  The reagent changes colour from Light Yellow to Orange to Dark Blue when bacteria is present. The colour chart included with the AquaVial EX kit makes reading the results easy. Each kit contains two test vials for duplicate testing; for maximum reliability.
Highly Tunable:  AquaVial EX is designed to detect E. coli bacteria concentrations from 1000CFU/10 ml (100CFU/10 ml) within 5 hours of incubation, to 10 CFU/10 ml (1CFU/ml) within 7 hours and as low as 1 CFU/10 ml when incubation is extended to 9 hours.
Cost-Effective:  AquaVial EX is a cost-effective alternative to laboratory testing. A combination of point of use screen-testing and laboratory confirmation for specific microorganisms is not only the most cost-effective but also the safest option
Range of Applications:  Ideal E. coli test for confirming the presence of

ß-D-Glucuronidase positive strains of

E. coli bacteria in drinking, recreational, industrial and waste water. For best performance, use in combination with AquaVial EX Total Coliform test kit.
Consistent Results:  AquaVial EX is designed to detect ß-D-Glucuronidase positive strains of E. coli bacteria; the test produces consistent responses to these specific microbial strains, regardless of the type of water tested.  
AquaVial EX is the ideal water quality screening tool for water treatment professionals.
When used in combination with Aquavial  EX Total Coliform Water Test Kit, the test produces results equivalent to the ISO 9308-1:2014 laboratory test method, the gold standard for E. coli and Coliform bacterial detection.
Applications: 
Drinking Water: tap, well, river, spring
Recreational Water: pond, lake, swimming pool, hot tub, beach water
Grey water: from office and industrial buildings, hotels, ballast water, mine tailing/ tailing ponds

 

Agricultural Water: irrigation, sprinkle systems, hydroponics

 

Recycled Waste Water

 
AquaVial EX uses a new, patented testing process, that involve 3 steps:
Sample collection and concentration: collect the water sample using the sterile sampling bag, and concentrate using the filtration system provided.
Sample incubation: transfer the concentrated sample into the test vial and incubate. For fastest results, incubate at 35⁰ to 45⁰C (95⁰ to 113⁰F). When incubation is not possible, double the incubation time recommended for the chosen detection limit (for example, for detection limit of 1 CFU/10 ml, incubate 16 hours at room temperature, instead of 7 hours)
Develop the color: break the ampoule inside of the test vial to release the contrast agent and wait 15 minutes for full color development.
Detection limit:
 AquaVial EX has the ability to adjust its detection limit based on the sample size and incubation time:
| | | | |
| --- | --- | --- | --- |
| Incubation Time / Sample volume |  1ml | 10ml | 100 ml |
| 5 hours | 1000CFU/ml | 1000CFU/10 ml | 1000CFU/100ml |
| 7 hours | 10 CFU/ml | 10 CFU/10 ml | 10 CFU/100ml |
| 9 hours |  1 CFU/ml |  1 CFU/10 ml |  1 CFU/100ml |
Kit dimensions: 5"x8" aluminum foil pouch, gross weight: 65 g( 2oz)

Box dimensions: 12"x12"x4 corrugated box, gross weight: 3.5kg (7.7 lb)
Shelf life: 1 year (expiration date is indicated on the package)
Please login to see this info.
---