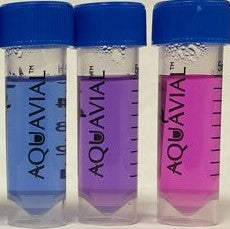 AquaVial Safe Check - 24 Hour In-Office Dental Waterline Test Kit
Easy 3 step testing:

Add water. Shake. Wait.
Check the colour.

Fast:

24 Hour results.
No lab or incubation required.

Accurate:  Results comparable to gold standard lab testing, with zero lab costs or compromise on quality.
Easy results:  No numbers or counting dots.  Colour-coded results make your water quality crystal clear.
Safe Check is designed specifically for in-office dental waterline testing. Detect microbial levels that exceed 500 CFU/mL.
Any bacteria in your sample will release enzymes into the water. These enzymes react with the blue dye resulting in a colour change to purple, pink or clear. If there are no bacteria present— no enzymes are released— therefore no colour change, and your water is safe. The colour in the vial indicates the presence or absence of bacteria based on a 500 CFU/mL limit.
Safe Check detects live and culturable bacteria, that are active and will continue to multiply if they are not stopped. Safe Check's advanced technology even detects transparent and small colony bacteria that are otherwise hard to see and count using HPC in-office tests.
---