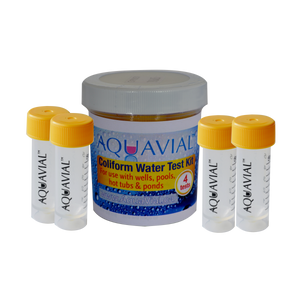 AquaVial Coliform Water Test Kit
A New And Innovative Product, ideal for water testing.  Use AquaVial Coliform to test well, irrigation, pool, and pond water for fecal coliform bacteria.
Simple, One-Step Water Testing Method.  Just pour sample water into the AquaVial Coliform test vial and check for changes in color.
Easy-To-Read Results: the reagent changes color from yellow to purple when bacteria are present. The color chart included with the AquaVial Coliform kit makes reading the results easy.
Highly Sensitive Water Test: AquaVial Coliform is able to detect coliform bacteria (including E. coli) at concentrations as low as 1 CFU/ml.
Cost-Effective Water Quality Screening Test: AquaVial Coliform provides a simple, quick, convenient and cost effective way to screen the water quality in the field.
AquaVial Coliform Water Test Kit -is an easy-to-use screening test that can quickly detect the presence of these dangerous bacteria before they could lead to serious illness.
E coli and coliform presence is an indicator of water being contaminated with wild or farmed animal feces, and can pose serious health risks. The World Health Organization recommends that drinking and recreational water contain less than 1 CFU/ml of E coli and coliform bacteria.
Detection limit: 1 CFU/ml
Recommended sample volume: 5 ml
Detection range: 1 CFU/ml
Box Content:
25 

AquaVial Coliform kits (jars)

 
Each kit contains 4 AquaVial Coliform test vials with yellow dry media and yellow cap
Instructions 
Jar height: 2.86 inch (72.5 mm)
Cap diameter: 2.35 inch (60 mm)
Jar weight: 0.009 lbs (40.8 g)
Box size: 12x12x4 inch
Box weight: 2.82 lbs
Shelf life: 2 years (expiration date is indicated on the package)
Store away from direct sunlight
Bacteria concentration reading chart
Download How to Use Instructions English
Q: How many tests can be done with one kit?
A:  Each kit (jar) contains 4 vials that can be used to perform 4 tests.
      Each Box contains 25 kits of 4 vials that can be used to perform 100 tests.
Q: What does it mean if the vial remains yellow for the first 48 hours, but changes color a couple of days later?
A: The reagent in the test vial detects the presence of an enzyme produced by coliform bacteria.  However, the enzyme can sometimes be present at very low concentrations from other sources or from dead bacteria.  In some cases, this can result in colour change after the recommended 48 hour period (after 4-5 days or even longer).  However, if the vial did not change color within the first 48 hours it is a clear indicator that there is no viable (live) fecal coliform bacteria in your water.
 Find more here.
Please login to see this info.
---